TROPHY "Take it HOME"(Package #1): Continental (Muffin) breakfast morning of the hunt, Cajun lunch, beverages, guides, and one alligator up to 8'0" un-skinned or skinned. We'll skin out the hide as well as clean and store meat for shipping or you can have the whole gator**.
PACKAGE COST: $1750.00 per person. plus license

**Gators can be harvested at larger than 8'. In fact, every year we catch alligators up to 13' in these Swamps.

WE HANDLE ALL TANNING AND TAXIDERMY AT ADDITIONAL COST!


HUNTING "Just a Shootin" PACKAGE(Package #2): Continental (Muffin) breakfast morning of the hunt, Cajun lunch, beverages, guides, and the chance to shoot a gator. Non exclusive and no part of the gator leaves the house unless previously discussed.
PACKAGE COST: $750.00 per person. plus license
 

TOURING "Looking on" PACKAGE(Package #3): Enjoy the adventure and thrill of the hunt. Light participation, but your not shooting. Ride out on the morning hunt and help bring in the Louisiana Beasts. Continental (Muffin) Breakfast morning of the hunt, Cajun Lunch, guides, and all the pictures and video you can take(guest provides still and video camera). This is a viewing tour.
PACKAGE COST: $200 per person


Meat and souviners available to all that come in every package for a small handling fee.

License: There is a license fee for all hunters. This is added to your TROPHY AND HUNTING PACKAGE only. Touring guest do not require a license. $150 for non Louisiana Residents. We will provide the weaponry and ammo for your hunt. This is for both your safety and ours. Plus, it makes travel a bit easier. We apply for and obtain your license prior to the hunt.


Chris: ph: 985-790-4433

Payment Method: Deposits are required and determined by package. Deposits can be made by check or credit using paypal, Venmo, or by phone.

Full payment must be made before the hunt by credit card, check, or cash received the day of the hunt.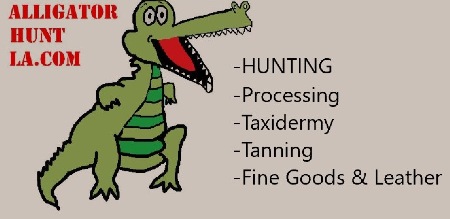 LIKE US ON FACEBOOK!
https://www.facebook.com/AlligatorHunt




2020 Louisiana Alligator Season is from August 26 thru September 13th. Make sure to book in advance. Taking reservations NOW.(dates are determined by our hunting days)
*Refunds offered on Hunt deposits prior to August 1st of the scheduled hunt year. License Fee is non refundable after that point and cannot be applied to a future hunt.Alligator Hunt La is not responsible for any lost travel expenses or cost not affiliated with the hunt. In the case of natural disaster or emergency all deposit money will be applied to a future hunt not including the license fees. No show and last minute cancellation during season are not subject to refund.